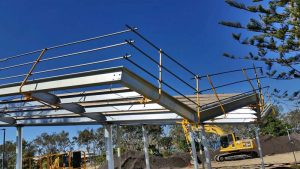 Sure Safe Fall Protection Services offer an impressive range of Industrial and commercial systems. They include face mount and parapet brackets which are perfect for industrial shed construction. Our top mount Klip-Lok Clamps attach to concealed roof sheeting without the need for fixing hardware. This provides for an ideal fall protection solution when installing commercial air conditioning and solar panel units.
Sure Safe offers a prompt supply and install service of roof rail and edge guard at competitive rates. Based in Coffs Harbour we service all surrounding towns from Macksville to Yamba. Our diverse range of certified Industrial/Commercial systems are sure to meet your needs and provide a safe work environment.
Parapet Edge Clamp
This unique edge clamping system is adjustable for slab and parapet thickness of 100mm to 260mm.
Tilt Slab Bracket
This face mount system is perfect for concrete walls and commercial timber facia. Adjustment allows post movement, to cater for gutters of different sizes.
Universal Bracket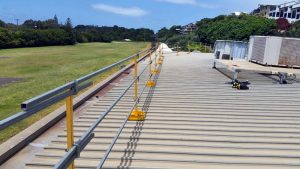 An extremely versatile bracket which clamps to the underside of metal Z and C purlins.
Klip-Lok Clamp
A unique design with the ability to temporarily fix to concealed roofs such as Lysaghts Klip-Lok profile. This clamp is adjustable to multiple sheet profiles.