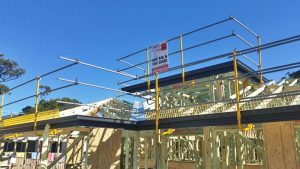 Perfect for all tile and metal roofs, Sure Safe offers a rafter or wall stud attaching system which does not penetrate the roof line. Our brackets fit to all timber and metal frames and cater for roof pitches from 0-30 degrees.
Sure Safe offers a prompt supply and install service of roof rail and edge guard at competitive rates. Based in Coffs Harbour we service all surrounding towns from Macksville to Yamba. Our range of certified residential systems are sure to meet your needs and provide a safe work environment.
Universal Bracket
This versatile system clamps to timber or metal rafters and joists. A full range of adjustment from zero right through to thirty degrees allows for different roof pitches as well as easily attaching to gable outriggers. The Universal bracket also attaches to studs and posts providing a solution to structures without eaves or stair voids.
Slim Line Bracket
Narrow in design, this system offers a solution to no eave brick veneer as its profile will allow attachment where rafter tail overhangs the brick cavity.
Facia Mount Bracket
This face mount system attaches to timber facia or any vertical surface. Adjustment allows for post movement, catering for gutter of different sizes.